Independent Drawings Gig 4
Artbreak Gallery, Williamsburg Brooklyn
Friday Oct 17, 6 - 10pm
Independent Drawings Gig 4
Independent Drawings Gig 4 is taking place simultaneously in multiple cities around the world, and we get our NYC leg here at
Artbreak Gallery
in Williamsburg, Brooklyn. Opening Reception is next Friday Oct. 17, 6 - 10pm
Here is a list of the artists and performances to be showing.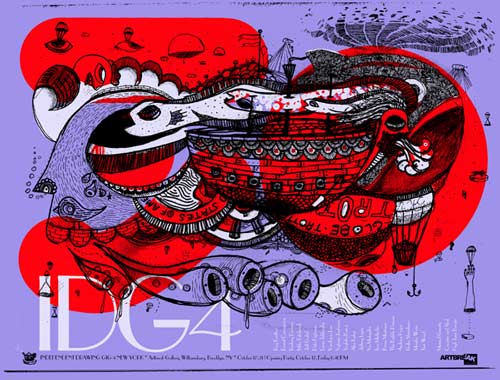 Artists

Ray Bartkus

Ernest Concepcion

Rodney Dickson

Mike Estabrook

Jeff Gabel
Petri Hytonen
Linas Jablonskis
Vandana Jain
Vytenis Jankunas

Yoshiko Kanai

Alex Kukai

Jeffrey Lewis

Yu Matsuoka

Ieva Mediodia

Brian Montuori
Rezabeck
Sean

Gaku Shinohara
Audrius Puipa

Monika Weiss
Tim Wood
Music

Cocaine and Abel
"We am very excited because the band has added 5 new members and a slue of new songs, production and gear so this should be a great show.
Brian Montuori and Tim Wood have included some drawings to be showing along with 20+ great artist from around the world.
Rez and Sean of
The Bubble Process
have made a pretty awesome poster for the show as well, be sure to check out the
high resolution link
. Here is the link to the
Press Release
. Save the date and forward! "
And also performing:
High Teen Boogie